about midnight Saturday
paper, graphite, digital audio, chipboard, speakers, mp3 player
84" x 204" (total dimensions of drawing)
26" x 15" x 12 1/2" (dimensions of sculpture)
overall dimensions variable
2010 - 2011
about midnight Saturday
about midnight Saturday
about midnight Saturday
about midnight Saturday
Screen Door
graphite on paper
30" x 22"
2009
Screen Door
Carrie
graphite on paper
30" x 22"
2009
The Break Up
graphite on paper
30" x 22"
2009
The Double
graphite on paper
22" x 30"
2009
Constellations
graphite on paper
22" x 30"
2009
Dip
graphite on paper
30" x 22"
2009
Ditch
graphite on paper
30" x 22"
2009
Down by the River
graphite on paper
30" x 22"
2009
Dreams
graphite on paper
30" x 22"
2009
Eagle Scout
graphite on paper
71" x 60"
2009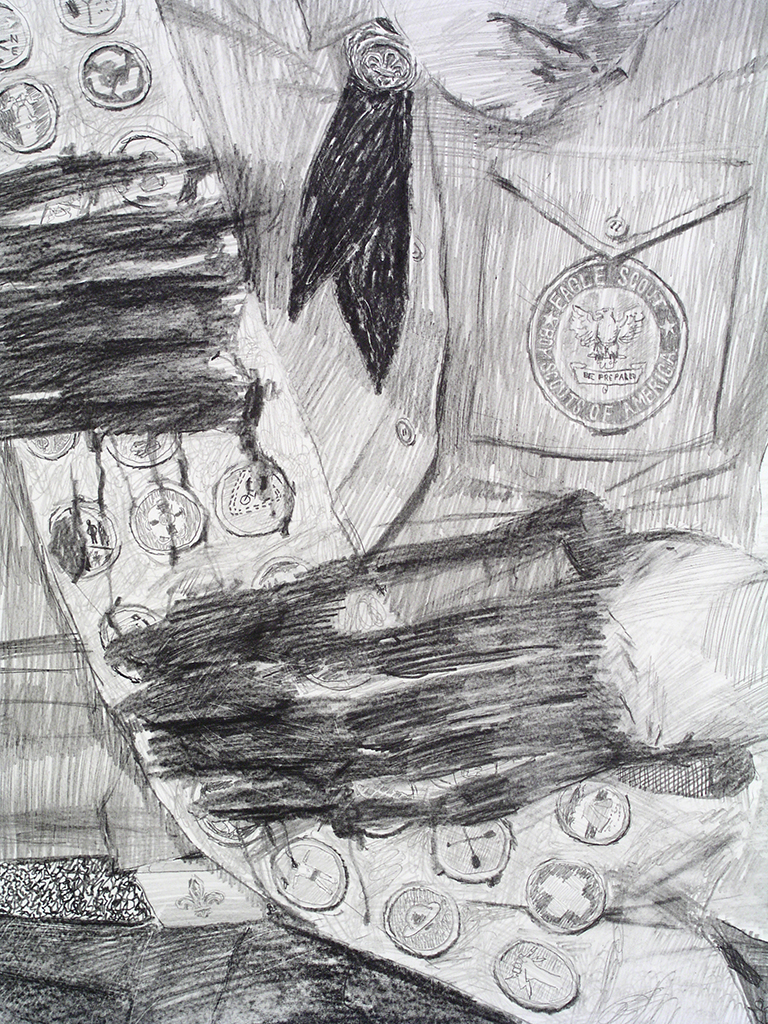 Eagle Scout
Eagle Scout
Emerge
graphite on paper
23 3/8" x 16 1/2"
2009
How to Personalize Your Locker
graphite on paper
30" x 22"
2009
Impasse
graphite on paper
22" x 30"
2009
The Path
two-color stone lithograph on BFK
22" x 30"
2011
processed and printed by Ron Wyffles and his students at the Pennsylvania Academy of Fine Arts
Luna
graphite on paper
60" x 72 1/2"
2009
Luna
Tracks
graphite on paper
22" x 30"
2009
Miss You
graphite on paper
22" x 30"
2009
Night Game
graphite on paper
23 3/8" x 16 1/2"
2009
Pool
graphite on paper
47" x 59"
2009
Pool
Pool
The Fire Within
graphite on paper
22" x 30"
2009
Smoke
graphite on paper
22" x 30"
2009
Skinny Dipping
graphite on paper
30" x 22"
2009
Terms of Endearment
graphite on paper
30" x 22"
2009
The Pupil
graphite on paper
22" x 30"
2009
X-Ray
graphite on paper
22" x 30"
2009
The Last Romantic Summer
graphite on paper
30" x 22"
2009
Love Rocket to Eternity
graphite on paper
22" x 30"
2010
Independence I & II (1300 Cunningham)
Graphite and charcoal on paper
96" x 72"
2015
Brian
graphite on paper
22" x 30"
2011
Jim at Coachella
Graphite on paper
30" x 22"
2014
Trophy Case
graphite on paper
30" x 22"
2011
Blake's Night
Graphite on paper
22" x 30"
2014
Dodge Ball
graphite on paper
60" x 48"
2010
Game Boy
graphite on paper
28" x 20"
2011
private collection
Autobiography
graphite on paper
30" x 22"
2011
On the Roadie
Digital printing ('zine, 32 pages, edition 100)
6 7/8" x 5 1/4"
2015
On the Roadie
Digital printing ('zine, 32 pages, edition 100)
6 7/8" x 5 1/4"
2015
On the Roadie
Digital printing ('zine, 32 pages, edition 100)
6 7/8" x 5 1/4"
2015
On the Roadie
Digital printing ('zine, 32 pages, edition 100)
6 7/8" x 5 1/4"
2015
Passion
2009-2010
Hand-bound book featuring 30 ink jet print reproductions of graphite drawings and 3 poems by Dan Magers made in response to the drawings.
7 3/4 " x 5 3/4"
(original drawings) private collection, Switzerland

While passion commonly refers to a strong, seemingly active, emotion, Spinoza's definition of passion emphasizes passivity--the lack of reason as a governing agent in behavior and decision-making. My book examines this duality within a narrative based on an acquaintance of mine who became a born-again Christian in response to his troubled personal life.
Milk Crate
Chipboard and acrylic
9 1/8" x 10 1/4" x 10 1/8"
2015
Milk Crate
Chipboard and acrylic
9 1/8" x 10 1/4" x 10 1/8"
2015
Milk Crate
Chipboard and acrylic
9 1/8" x 10 1/4" x 10 1/8"
2015